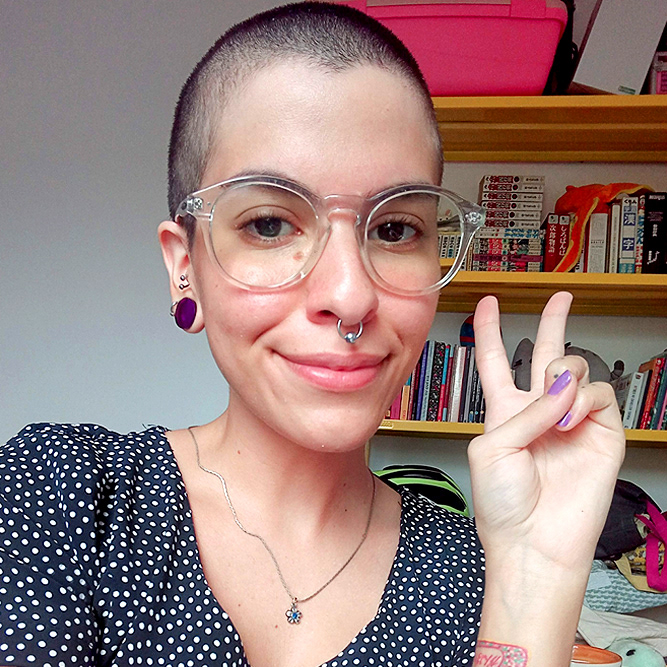 HI, I'm Karyne Elise! also known as KUY
I was born in 1993 and got my baccalaureate degree diploma in Design at the Technological Federal University of Paraná. I started to draw when I was still a child and only in 2015 I started making digital painting and began to exhibit my work on the Internet and participate in various art affairs to sell my projects. In that same year, I was awarded in the event "UTFPR Makes Design" with the editorial redesign of the book Barren Lives. I teach illustration classes and I have taught workshops of cute illustration. In my final course assignment, I developed an educational application of Japanese ideograms for children, so they are able to learn the language through cute aesthetic (kawaii). This work was recognized by the Good Design Award in Curitiba, Brazil.
My favorite themes are related to children/childhood and educational/learning, using the cute/kawaii aesthetic  to help people and make them happier.
Oi, sou Karyne Elise! também conhecida como KUY
Nasci em 1993 e obtive meu diploma de bacharel em Design na Universidade Tecnológica Federal do Paraná. Comecei a desenhar quando ainda era criança e só em 2015 comecei a fazer pintura digital, a expor meu trabalho na internet e participar de várias atividades artísticas para vender minhas ilustrações. Nesse mesmo ano, fui premiada no evento "UTFPR Faz Design" com o redesign editorial do livro Vidas Secas. Eu dou aulas de ilustração e tenho ensinado oficinas de ilustração fofinha. No meu trabalho de conclusão de curso, desenvolvi um aplicativo educacional de ideogramas japoneses para crianças, para que elas possam aprender a língua através de estética fofa (kawaii). Esse trabalho foi reconhecido pelo Prêmio Bom Design em Curitiba, Brasil.
Os meus temas favoritos estão relacionados com crianças/infância e educação/aprendizagem, usando a estética fofa/kawaii para ajudar as pessoas e torná-las mais felizes.